Songs for the End: 'The Ballad of Lucy Jordan'
by Rosa Abbott | 20th May 2020

Lamenting the banality of white, suburban domesticity, 'The Ballad of Lucy Jordan' tells the story of a middle-class housewife who wakes up one day to confront her crushing disappointment with life. Lucy Jordan has a husband, kids, a house to clean and flowers to rearrange, but none of this eclipses her anguish that "at the age of 37, she realised she'd never ride / through Paris in a sports car / with the warm wind in her hair". She spends her afternoons in bed, "dreaming of a thousand lovers", and fantasising about running through the streets of her "white suburban town", naked and screaming.



Privilege? Yes, no doubt about it, but the song touches upon a painfully relatable feeling: that of realising life doesn't measure up to your expectations, that you can become alienated from an existence you thought you'd craved, and that domestic, material comforts can't always quell a racing mind, a lack of agency, or sexual frustration. Written by poet Shel Silverstein, the song has been recorded by a multitude of artists (Dr Hook, Lee Hazlewood, Belinda Carlisle), but Marianne Faithfull's version is definitive and gives Lucy's story the most pathos. With a crackling, raspy voice and punky enunciation, Marianne transforms the song from a country folk-ballad to an impassioned cri de cœur.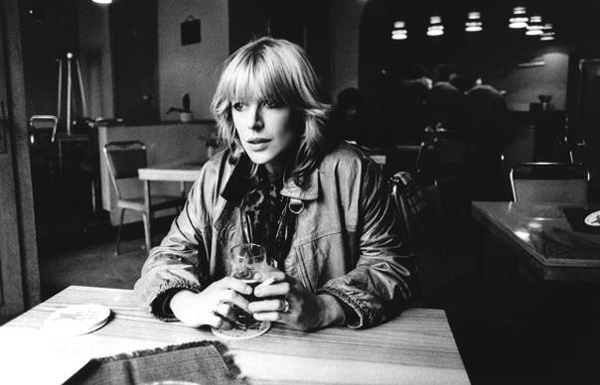 Marianne recorded 'Lucy Jordan' for her 1979 comeback album Broken English after a lengthy absence from the spotlight. The last time she'd had a hit record was 1967, when she was Mick Jagger's girlfriend, writing songs for the Stones and at the centre of the 'Swinging London' scene. In the twelve years since, having been dropped by Mick and co, she'd sunk into a downward spiral of anorexia, cocaine and heroin addiction, suffered a miscarriage, lost custody of her child, attempted suicide and ended up homeless on the streets of Soho for two years. She moved into a squat in Chelsea in around 1975, when it was the epicentre of London's emergent punk scene. Like Lucy Jordan, she was a 30-something white woman with a privileged upbringing, but her life had taken a very different trajectory. Marianne probably did go on a proverbial ride through Paris in a sports car with the warm wind in her hair – but wasn't any happier for it.

Broken English bears the battle marks of Marianne's downfall and destitution, both in its emotional frankness and in the ravaged tone of her once-operatic vocal. Permanently marred from years of abuse, her voice is deeper, fractured, and struggles to wrap itself around the words. But what Marianne has lost in vocal range, she has gained in emotional range. Her trembling low notes lend her performance the kind of magnetism and gravitas that is only hard-won through vats of character and upending life experience. In the video of 'Lucy Jordan', her jaded and haunted eyes gaze directly into the camera at the track's ambiguous and fatalistic climax, her empathy with Lucy's predicament entirely convincing.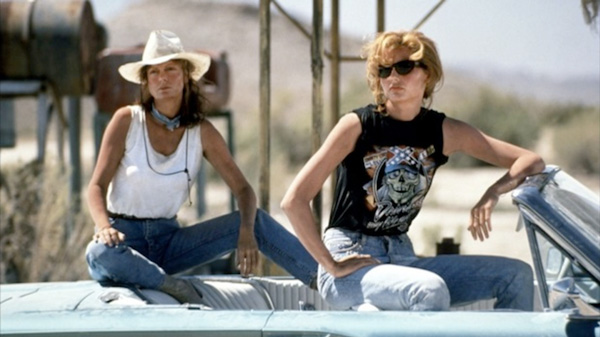 Aside from Marianne's splintering vocal delivery, the masterstroke behind this version of the track is to pluck the song from its folk-ballad origins and lay it over a new wave synth. Its rhythmic arpeggiator sounds progressive, even futuristic, pulsating onwards despite the track's underlying despondency and ultimate darkness. The song is a perfect match for Thelma & Louise, in which it soundtracks the two titular characters driving all night through the American desert, swigging whiskey from a naggin. Like Lucy Jordan, the heroines of that film come face-to-face with life's disappointments, sparked in this instance by sexual trauma, and choose life on the run to find only temporary respite. Its a famously unhappy ending for Thelma and Louise, and also for Lucy, but if Marianne's triumphant reprisal with this record tells us anything, it's you can always come back stronger – broken, bludgeoned and been-thru-the-ringer, but ultimately stronger.



Songs for the End: 'I Dedicate My Life'
by Rosa Abbott | 12th April 2020



"People ask me
What I do with my time.
Listen!
I dedicate my life."

There is a conviction in Marie Davidson's words that I find utterly compelling: "I dedicate my life." It implies a renunciation of all other pursuits, pleasures and distractions, an almost pious asceticism, the fervour of which – equal parts passion and discipline – perhaps even borders on masochism. Just as the sub feels most free when bondaged into restraint, Marie Davidson points towards the sense of cathartic release that one can experience through wholehearted dedication to a creative pursuit.

In his review of Davidson's album Adieu Au Dancefloor for Pitchfork, Kevin Lozano argues 'I Dedicate My Life' "conjures the beautifully unhinged spirit of Throbbing Gristle, with pointillist synths, relentless drums, and needles of heated noise that recall the profane and industrial heartbeat of 'Hot on the Heels of Love'." No wonder, I thought upon reading Lozano's words, I had such an immediate reaction. 'Hot on the Heels of Love' could well be my favourite track of all time. Played at high volume through nightclub speakers (or even tinny Huawei headphones, to speak the truth), the effect of that song is physical, immediate and compulsive. Like many club-goers, I enjoy taking chemical substances to heighten the experience of electronic music. But with a track like this, that innate rushing reaction is so all-consuming that no enhancement is required.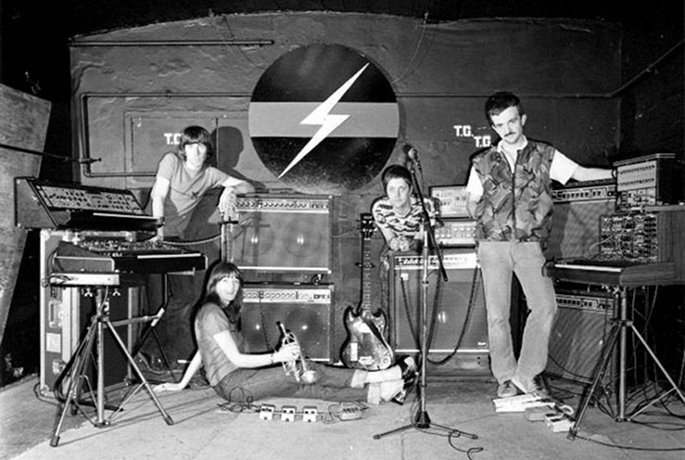 Unlike Davidson, I do not dedicate my life to electronic music. Beats, sounds and synthesisers have the power to move me, to provide solace – even spiritual comfort. Though I have tried noodling around on Ableton before, I found clicking block-like arrangements into a digital interface counterintuitive. I'm convinced my brain lacks the patience and rationality required for such technical skill. And so my connection to electronic music remains purely intuitive, embodied. The acceleration of one's heartbeat to 131 BPM. The rush of adrenaline induced by the incessant roll of an arpeggiator. Skin tingling to a lilting synthline.

Like Throbbing Gristle's industrial whip-cracking before it, 'I Dedicate My Life' delivers a sharp punch to the solar plexus. Enunciated in Davidson's Montreal twang, its starkly immediate lyrics provide a manifesto for creative pursuit: "When you work / When you drive in cars / When you are on the internet / I dedicate my life". If I do not dedicate my life to electronic music, what do I dedicate it to? To not possess Davidson's singular vision suddenly feels bereft. Her conviction is as infectious as her staccato beats; her creative drive as rapturous as the roll of her arpeggiated synth. Listening to this track on repeat stirs up a desire to commit oneself single-mindedly to something – anything. Work? Driving? The internet? By comparison, it all seems so banal.

Do I have the dedication of Davidson? Rarely. The distractions of dish-washing, WhatsApping, paying one's rent can all stub out the fag butt of creative aspiration. Faced with the unending, amorphous days of life in lockdown though, and forced into a state of critical self-reflection, I find myself lured again and again by her unwavering conviction, her single-minded pursuit of self-expression through sound. And after five minutes and 49 seconds of lush synthetic escalation, to dedicate one's life seems not only possible, but positively appealing.



Songs for the End: 'Sexual Healing'
by Rosa Abbott | 25th March 2020



Marvin Gaye was in Ostend when he wrote 'Sexual Healing'. In the winter of '81, he arrived by boat and checked into the Residence Jane. Looked out upon the sparse waterfront of this out-of-season Belgian seaside town, grey hunk of sky hanging low as he wrote. "Baby. I'm hot just like an oven. I need some lovin'".

Did you think it was a song about getting hot with a stranger? Listen again. It's a song about loneliness, about isolation, about longing for the human touch. He wrote it while mired with financial problems, breaking up with his second wife, and severing his record contract with Motown. He was also trying to wean himself off cocaine and went into relative self-isolation in Ostend to kick the habit. "Baby. I can't hold much longer. It's getting stronger and stronger."




I first became obsessed with 'Sexual Healing' when I was 23 and crashing out of a bad relationship. It was the sort of break-up that empowers and emboldens you, makes you realise how strong you are. And yet, inevitably your window to the world is still tainted blue. Sadness felt as a pinch in the pit of your stomach. I moved out of my old place and in with a friend, threw a space-themed party with a cardboard rocket in the living room to ward off my anxiety. I played 'Sexual Healing' on repeat so many times that I almost got kicked out of my own housewarming. "And when I get that feeling, I need… sexual healing."




Marvin stayed in Ostend for around 18 months. There, he ran on the empty beaches, played basketball, stared endlessly at the sea. He abstained from coke and sex and built up a collection of S&M comics. "There are plenty of places I'd like to be rather than Ostend," Marvin said in a shaky documentary made on his time in the seaside town, "but this where I need to be." In this fruitful period, Marvin penned his final album, 'Midnight Love', only leaving the town reluctantly when he ran into visa issues. He'd never refind the peace of mind Ostend offered him, slipping back into a cycle of coke-fuelled paranoia upon returning the States.





As for me, the rocket party is reduced to a murmur in my brain now. My only tangible evidence of it is a folder of blurry iPhone photographs that I spend my time in Corona-induced isolation uploading to a Google Drive folder named '2014'. Drinking a glass of red wine at 2 am I watch as each file flickers into cloud storage one by one. I took 942 photographs that year and they shape the memory I form of it. It feels like a lifetime ago.

And yet, I still bang on 'Sexual Healing' whenever I feel an acute sense of aloneness in the world. I still get a chill down my spine when I hear those whispered back up vocals: "getup-getup-getup-getup". The finger-clickin' groove, made with almost entirely synthetic sounds on an 808 drum machine: "wakeup-wakeup-wakeup-wakeup". The anguished coda of "please don't procrastinate, it's not good to masturbate" as the track dies out. Something about this track is a tonic for the soul. My despondency can always find kinship and solace in Marvin's yearning, his voice escalating, soaring through the particular pain of being horny and alone: "Baby, I feel like I'm capsizing, the waves are rising and rising."

In equal parts spiritual and libidinal, it's the song we need for impending endtimes.

Published as part of Warm Yourself By My Trash Fire (March – May 2020)